Kindergarten Curriculum
We take Montessori education system as the cornerstone and focus on culture to respect children's individual differences and protect their curiosity. By providing the holistic education from personality, cognition, physical fitness, and creativity, we enable children to discover both their unlimited potentials and good qualities.

Curriculumn Overview
What kind of talents are needed in the future? Are our children ready for a challenging future? What kind of people do we want our children to be? What is the most important thing in children's early education ..
HTKG Nanjing aims to become the cradle of Montessori holistic education and all-age education. We take culture as the main focus of education, explore the potential of children. We expect them to become life-long learners who stay rooted in Chinese culture, embrace multiculturalism, and contribute to the harmonious community culture. Holistic education is our soul and foundation. It permeates all aspects of the learning community which involves children, teachers, and parents. By providing children with the holistic education that trains them from the four dimensions: personality, cognition, physical fitness, and creativity, we enable children to discover both their unlimited potentials and good qualities. We uphold the original-ecology design concept of returning to nature (integrating historical culture and natural environment). The outdoor site area covers over 2000 square meters, including interior stairs connecting the three stories of the teaching building, the sky maze, the secret forest, the rock climbing area, the water park, the recreation area, the standard athletic track, the sand pool, and the ecological planting area. The interior is equipped with the multifunctional hall, the craftsman's workshop, the grid workshop, the food knowledge workshop, the fun space, and the pleasant reading space. What we provide is not just an immersive language environment with both Chinese and western cultures, but also an inspiring, motivating and enjoyable ecological learning environment.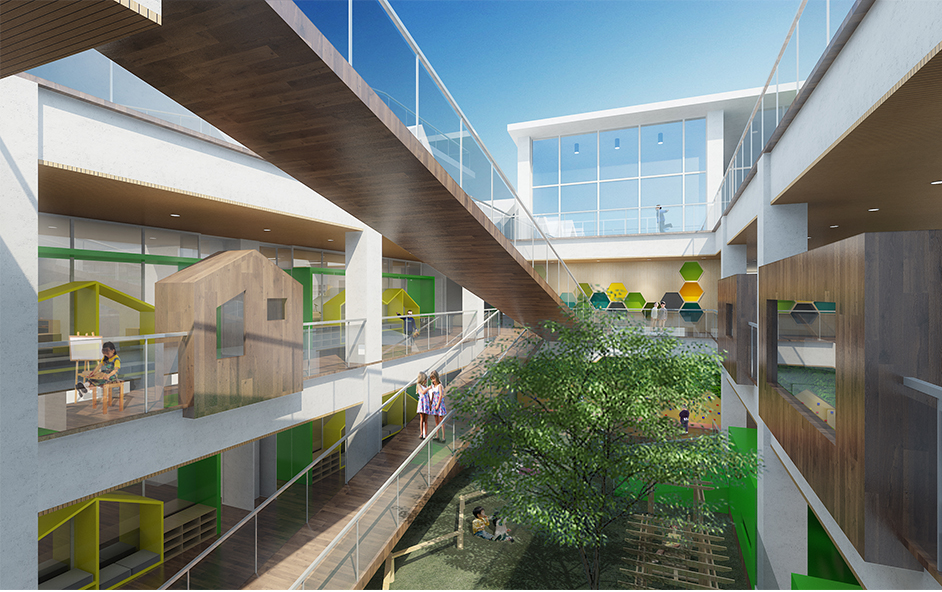 As for children, HTKG Nanjing takes the Montessori education system as the cornerstone, while focusing on the cultivation of physical fitness and creativity. We respect and value children's individual differences, protect their curiosity, follow children's steps, stimulate their potentials, and provide them with joyful learning and living activities. In Montessori classrooms, there are five zones: Practical life area, Sensorial area, Math area, Language area, and Science and Culture area. We take culture as the main learning focus, and organically combine the content and themes of the five Montessori areas, so that children can explore and learn in a relatively integrated and systematic curriculum system. In HTKG Nanjing, we carefully sow the seeds of culture and wait to see the young saplings come into strong roots and tender shoots, and then thrive in joy. In a small mixed-age society consisting of children from 3 to 6 years old, we help them to learn to be independent and active, self-disciplined and confident, respectful and cooperative, and tolerant and open-minded. They can also learn how to express themselves, solve problems, develop their intelligence, control their emotions and communicate with others. At the same time, we put in curriculum about physical fitness, creative art, Orff music, Chinese and English picture book reading, food education, etc. to ensure that children can not only master knowledge and skills, but also develop their character, physical fitness and creativity. In order to better connect our curriculum with primary education, we have especially set up Prep bridging curriculum for children from 5 to 6 years old, including: Chinese Integrated Curriculum, English-themed curriculum and innovative integration curriculum.
As for teachers, cultivate children's love with their greatest love, and bring etiquette (grace and courtesy), peace (peaceful education activities), sharing (special birthday lessons), gratitude (pre-lunch thank you ceremony), etc. into daily life in order to let the children fill their hearts with gratitude and warmth. We pay great attention to teachers' professional and personal career development, create conditions and broad platforms to improve their professional qualities and cultural accomplishment.
All the administrators of the kindergarten team have many years of teaching and management experience in bilingual or international kindergartens. All of our major Montessori teachers have received internationally recognized Montessori teacher qualification training. Chinese and foreign teachers work together to take care of our children with rich teaching experience, love and efforts.
As for parents, the school hopes to work closely with them to build an all-age learning community which is full of love and respect. We provide children, families and communities with a variety of services and activities, such as festival celebrations, community services, parental teaching assistants, parent reading clubs, parent workshops, cultural co-creation workshops, tea talks by the principal, borderless classrooms, etc. Let all children, teachers and families work, learn and grow together in this community that provides children with a diverse environment in which they care for, support, and actively engage with each other. At the same time, it also contributes to the establishment of a harmonious community and creates an organic ecological education system for the development of children.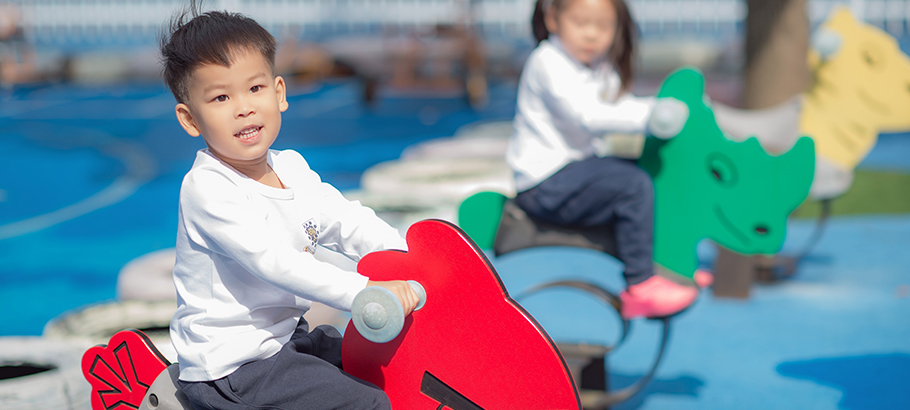 3-6 years old mixed Montessori class
We adopt the Montessori education method to create a mixed-age education environment for children from 3 to 6 years old and implement a people-oriented holistic education. Our aim is to foster children's spirit of independent exploration and learning. We provide a prepared environment which is conducive to children's development; we respect the individual differences and the growth pace of them; we let children explore and learn independently according to their own interest and pace, in order to shape and improve their own personalities.
Five Montessori Areas:
Practical Life area — It provides sufficient daily life work to help children gradually become independent, develop their abilities of hand-eye coordination, concentration, independance, sense of order, sociality and responsibility. With the help of it, children can learn to take care of themselves, others, and the environment.
Sensorial area — It provides various sensorial exploration resources to help children to learn to identify colors, sizes, thickness, length, height, shapes, etc. We help children improve their sense perception, develop their abilities to observe, judge, classify, sort, and distinguish, and then improve their independent learning and logical analysis capabilities. With these, they can find their ways to explore the world.
Math area — In this area, children can learn to understand the correspondence between numbers and quantities through tactile and visual perception. They can explore the relationship between numbers and quantities from both concrete and abstract ways, and master the abilities to compare, classify and make conclusions. They can also learn how to count numbers and calculate and how to find correlation, so as to train their logic thinking abilities.
Language Area —It provides Chinese and English language learning. It aims to enrich children's Chinese vocabulary and improve their expression and literacy, to lay a solid foundation for thorough reading. By creating an immersive language learning environment and infiltrating English learning into every aspect of the everyday life, children can learn English naturally, develop their English thinking capabilities, and experience different cultures.
Science and Culture Area — Cultural learning can help children understand the diversity of world cultures. Children can learn about music, art, astronomy, geography, history, science, animals, plants, etc. so that they can understand human culture in a broader context and better adapt to the future world.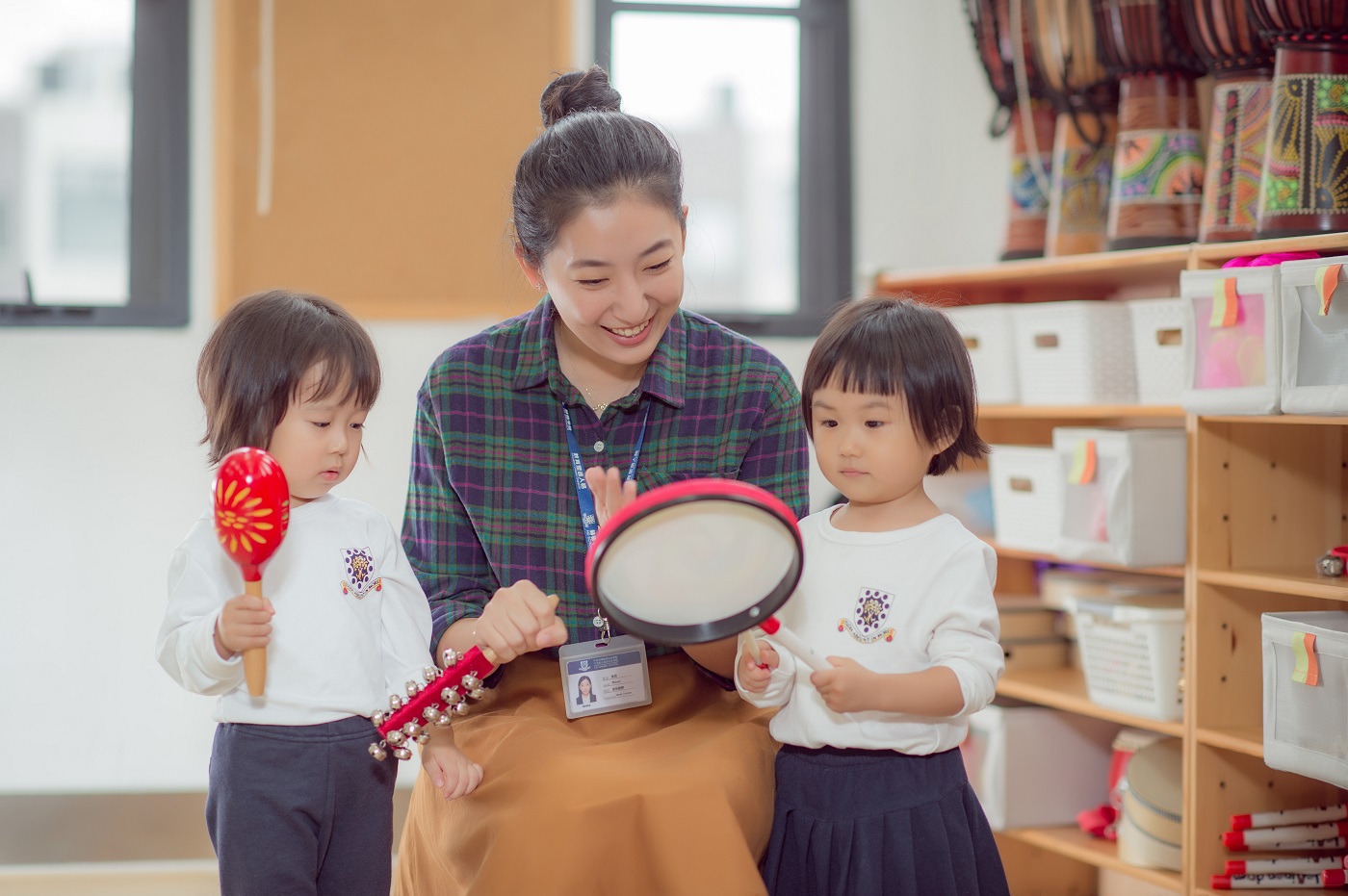 Curriculumn Highlights